When you talk about favorite things, it turns out you can have quite a few! Today I'm just limiting myself to white, and the list is still long. Starting with White Wednesday. My favorite time of the week!
Linens and lace are at the top of the list.
Vintage and handmade, even better!
Mix them with ironstone plates and I start getting palpatations. But mix together almost anything white and it ups the pleasure quotient. Have a look at some of my ALL TIME favorites in white.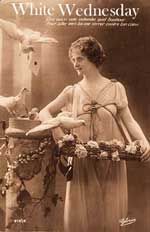 And have a Good Life Wednesday at
You won't want to miss any of it!